Yoga Samaadhi is an effort to integrate three life streams for social harmony. First, cultivating our inner awareness through the art and science of yoga and meditation. Secondly, applying awareness for a conscious living with nature and self-sustainability and finally, sharing our joy and happiness through community outreach activities.

It is our priority to create safe space for everyone to express, reflect and contemplate.  We believe in the center and balance between the body, mind and spirit as an essential foundation for personal and spiritual growth.  Through yoga philosophy, knowledge and practices, we strive to guide all spiritual seekers toward a joyful living, contented mind and spirit, a holistic lifestyle and together move closer to self-realization.   What ancient wisdom we have to share, only serves as a tool to achieve these goals.  We wish to make this tool accessible to all and trust that all dear ones utilize this great gift, passed down from yogis and ascended masters, for spiritual growth.
Our school believes in human potential for growth.  We are seeds ready to sprout.  With good soil, water and sunlight, there is no telling how beautifully you will grow.  We believe in living and growing with love, unity and harmony, both internally and externally.
Some essential philosophies we try to bring forth in our teachings and daily lives are:
(1) "Self-love and acceptance is the first step to a joyful life"
We believe in a harmonious living.  Harmony between the mankind and all of Mother Earth and her creation.  However, in order to find such kind of external harmony we have to start by going inwards to find internal harmony between you and yourself.  To rediscover, understand, accept and love our own true nature is the first step necessary to face the external world and to deal with what life brings.  The love of your true self brings stability and strength to live fearlessly but with compassionate and love for all beings.  We believe that the solution to all external problems in the world first starts from finding the peace within ourselves. 
(2) "Discover who you are and find the ultimate purpose in life."
Human nature is built-in with curiosity.  We love to solve problems, we look to discover the unknown, and we crave for answers.  The greatest mystery of all are questions of our existence, "Who am I? Why am I here?" Without your name, fame, diploma, job position and success stories, who remains underneath these identification given to you by society?  There is nothing wrong with us living in the norms of society.  However, we encourage all to discover their own uniqueness, your true self and a higher purpose beyond living life within that norm defined by others.  This is your personal journey to make. 
(3) "Spirituality in sustainability as a way of life."
There is a strong spirituality in sustainability.  Spirituality is a way of living and so is sustainability.  It is our attitude towards life that translates in thoughts, speech and action.  The two concepts are intertwined and is inseparable.   In loving and caring for surrounding nature, you also unconsciously direct the same energy inwards and, in time, gradually extends to others.  For many who find difficulty loving themselves or people around them, spending quality time in nature and learning to connect with Mother Earth can proof to be emotionally, mentally and physically therapeutic and healing.
The Right Yoga School for Your Journey
Embarking on a yoga teacher training journey is an exciting and transformative endeavor. However, the challenge lies in finding the best yoga school in Thailand that aligns with your aspirations and goals.  With so many options available, it's essential to understand what to look for to make an informed decision.
For those seeking a more profound and introspective yoga teacher training experience, Chiang Mai in Thailand surpasses other destinations.  It is no wonder that many of the best yoga schools in Thailand have chosen this location.  Chiang Mai offers a serene and spiritual atmosphere, perfect for delving deeper into the study and practice of yoga. With its tranquil surroundings and rich cultural heritage, the city inspires a sense of inner reflection and self-awareness. The landscapes of Chiang Mai allow students to bring their focus inward, fostering personal growth, and a deeper connection with their yoga journey. If you are serious about your studies and yearn for a transformative experience, Chiang Mai is the ideal choice for your yoga teacher training.
As you embark on your search for the best yoga school in Chiang Mai, keep the following factors in mind.
By carefully evaluating these factors, you can make an informed decision and choose the best yoga school in Chiang Mai. Remember, finding the right fit for your needs is crucial for a fulfilling yoga teacher training experience.
YOGA ALLIANCE CERTIFICATION
(Registered Yoga School in Thailand)
Yoga Alliance is an internationally recognized organization that sets standards for yoga education and establishes guidelines for yoga schools and teachers. It serves as a governing body for the yoga community and aims to ensure the quality and integrity of yoga instruction worldwide.  Yoga Alliance plays a crucial role in maintaining standards, building credibility, and fostering professional growth within the yoga community. Its certification provides reassurance to students, promotes professionalism among teachers, and creates a global network of yoga professionals.  Regardless of whether a school is a large or small institution, the majority of yoga schools in Thailand are registered under this standard.
Yoga Samaadhi is a yoga school in Chiang Mai affiliated with Yoga Alliance as a "Registered Yoga School (RYS®)", accredited with RYS 200, RYS 300, RYS 500 and RCYS.  Our school is one of the yoga schools in Thailand that fully complies with and meets the standards set by Yoga Alliance.  Upon completion of YTT courses, students will become eligible to register with Yoga Alliance as a "Registered Yoga Teacher (RYT®)" – RYT200, RYT500, RCYT – as per their completed yoga teacher training.
If you are looking for a yoga school in Chiang Mai Thailand, you are welcome to join us.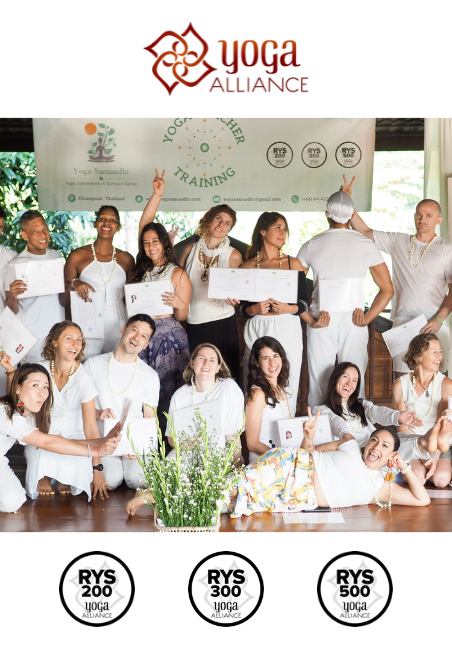 Yoga Teacher Training in Chiang Mai Thailand
A yoga teacher training course (Yoga TTC) is an intensive program designed to provide individuals with the knowledge, skills, and tools necessary to become certified yoga instructors. A Yoga TTC typically cover a wide range of subjects, including yoga philosophy, anatomy and physiology, asanas (yoga poses), pranayama (breathing exercises), meditation techniques, teaching methodologies, and more. Participants learn about the history and philosophy of yoga, deepen their personal practice, and develop the ability to guide and instruct others in yoga classes. Through a combination of theoretical study, practical sessions, teaching practice, and self-reflection, aspiring yoga teachers gain a comprehensive understanding of yoga and its application in both personal and professional contexts. Successful completion of a yoga teacher training course grants individuals the certification needed to teach yoga classes, empowering them to share the benefits of yoga with others and contribute to the well-being of their communities.
Yoga Samaadhi provides a comprehensive Yoga Teacher Training in Thailand that combines traditional teachings with modern methodologies, enabling you to embark on a transformative journey.
At Yoga Samaadhi, we understand the importance of a nurturing environment for personal growth and learning. Nestled amidst the tranquil landscapes of Chiang Mai, our school offers the perfect setting to immerse yourself in the study and practice of yoga. With our Yoga Teacher Training in Chiang Mai, you can deepen your knowledge of yoga philosophy, explore various yoga styles, and develop the skills necessary to confidently lead yoga classes.
Our experienced instructors bring a wealth of knowledge and expertise to the training, guiding you through an enriching curriculum. Through a blend of theoretical and practical sessions, you will learn about asanas, pranayama, yoga nidra, meditation, yoga philosophy, yoga anatomy, teaching methodologies, and more.
By choosing Yoga Samaadhi's Yoga Teacher Training in Thailand, you will receive a globally recognized certification accredited by Yoga Alliance that opens doors to teaching opportunities worldwide. Our program is designed to empower you with the confidence, knowledge, and skills needed to inspire others through the practice of yoga.  Experience the transformative power of yoga with Yoga Samaadhi's Yoga Teacher Training in Chiang Mai, Thailand.